posted on: 2011-01-18 07:43:05
I was having trouble getting a burrito on the east coast, so I decided to show how I make a simple, veggie burrito.
>Because it is hard to get a good veggie burrito in eastern Pa.
Veggie Burrito - the most basic veggie burrito is a bean and rice burrito.
Start with the beans, plain salted beans cooked in a vegetable stock. Since it is winter I start with dry beans, I par boiled the beans earlier in the after noon. Boiled them for two minutes then left them on the stove until it is time to cook them. I rinse the beans because the water that you par boil them in can be bitter.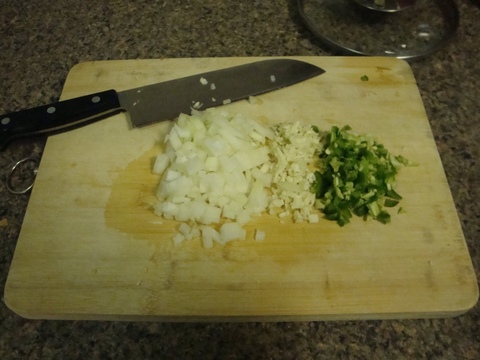 Some spices, garlic, onion and jalapeño. I didn't have time to make a real vegetable stock so I used some spices. I am not making a chili here.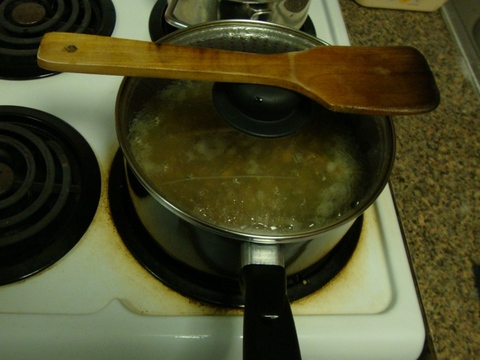 Mix the spices in the pot, with the rinsed par-boiled beans and set to simmer for the next hour or so. My mom says not to add salt until you've cooked your beans, she gave me a reason but my reason is "My mom says."
Now that the beans are cooking, go drink some beer.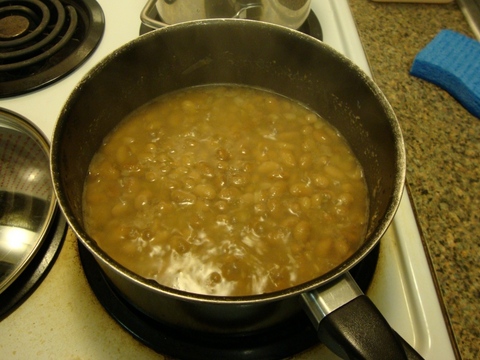 An hour later the beans are cooked. How do I know? I ate one, it should be the same consistent color all the way through, some beans take longer then others. My recent experience, pinto beans ~ 1 hour and black beans ~ 2 hours. As long as there is water you are not going to over cook them.
Cook some rice, I used par boiled rice to get that taco wagon texture. The bag says par boiled I don't know how to par boil rice.
Add salt to taste, I put 1 tbs in this pot.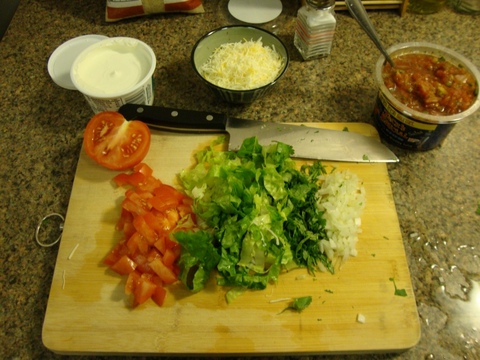 Les accoutrements. Lettuce, tomato, salsa, sour cream, cheese and cilantro. This burrito can still be enjoyed without any of these but if you got em.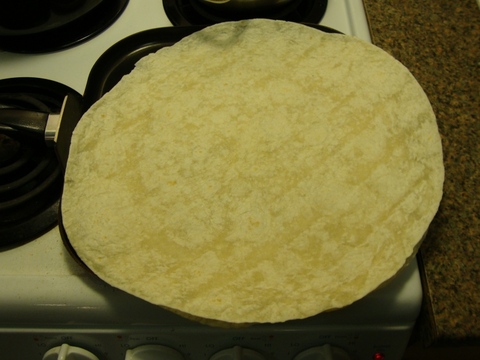 Use a big tortilla.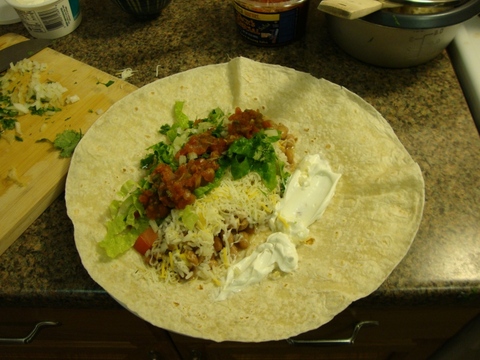 Heartily slather your tortilla with burrito fixin's. Clearly this tortilla has room for more, and I am going to take care of that when I make a burrito tomorrow .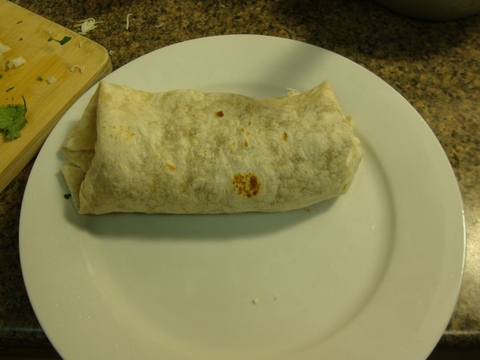 Voila. To make it really taco wagon-esque serve that sucker with slice of lime, a radish and a jalapeño.
The rest of this is completely post beer/burrito rant. I wrap all sorts of veggies in tortilla and call it a burrito. Collard greens, potatoes, yams, peppers, mushrooms, brocolli, tofu ... What really confounds me though is that the burrito I made above costs me $3.00 at a taco wagon in Ca, but in eastern Pa I cannot find one this simple. Look at the ingredients I used, it has a minimal amount of perishable ingredients, the beans keep, the rice keeps. At some places I wonder if the person who puts a burrito on the menu has even eaten the veggie burrito they make.
Oh yeah , the salsa wasn't hot at all. Ill be throwing a little El Yucateco hot sauce on next time.
Comments