posted on: 2010-12-09 12:07:39
This is a review for the Elive linux distribution. Small lightweight and very practical. This breaths new life into my old laptop.
>First off I want to address the elephant in the room. It is not free to install this program, you can download Elive iso and burn it to a cd, then use it as a live cd for free. To install it on a hard drive though you will need to obtain an installer model. You can obtain a free module rather easily though by contacting the leader of the project 'thanatermesis' on their website here. This project might be an great opportunity for somebody interested in developing.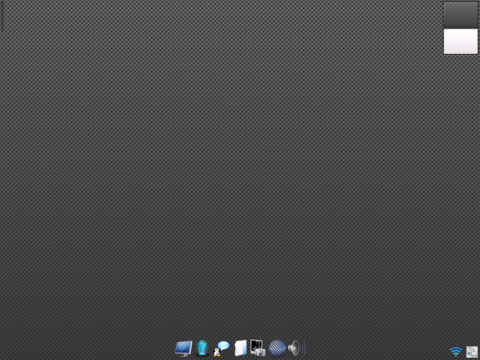 My system is an old Dell Latitude CPi, 400mhz with 256 megs of ram. This system was smoking fast when it came out with windows 95 and I want a lightweight os so that it can at least be functional again. In that regards eLive is exactly what the doctor ordered.
ELive was incredibly easy to install: Put in the cd and voila, every thing works. From power down to the desktop it took less than three minutes, which is fast for this computer. On the very first try it boots to enlightenment and even wireless is able to hook up to a WPA protected network. The interface seems snappy and responsive until you try to do anything so I had to turn off/disable some of the the modules. Removing the drop shadows made the interface more responsive. With the default settings right clicking and left clicking were slow to bring up menus.
Another big performance change involved installing google chrome. Ice Weasle is way too resource intensive for this computer but chrome made browsing tolerable. I am even doing this post on my old computer thanks in part to chrome. It is easy to install since eLive is built on debian.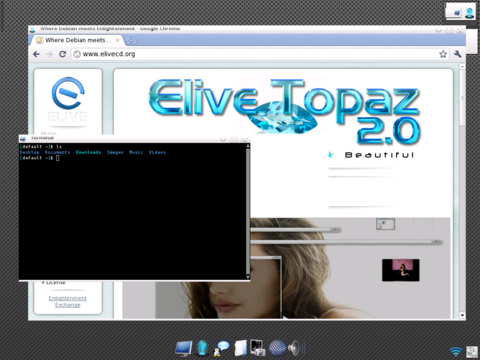 eLive comes with a few themes which is nice because I didn't nescessarily like the first one. The enlightenment desktop environment is very proud of its low resource display that includes many of the modern effects. None of which I use.
Some of the problems with this install. The terminal program is nowhere near as good as gnome terminal or konsole. For a slower system I guess that is a nescessary sacrifice for performance.
There is no easily accessible volume control when it first loads. At best this is a mild inconvenience, in my situation it was problem. The startup sound is annoying and long. I had to use headphone to shut it up. This is a type of problem that probably will be adressed as more users try this distro to help make this a production ready distro. It is easy enough to fix, just put a volume control into the dock bar. If you are going to use the live cd then this will be a recurring problem.
The next problem could be an indicator of the state of the project. When you boot the system from a live cd with only a windows ntfs partition you get a warning. I appreciate the warning because ntfs is a proprietary file system and the open source drivers are not perfect. There are two issues with the way this warning is delivered. First it is recommended that you change your file system to a fat file system to be compatible with both operating systems. This is very bad advice. This advice might be true for a block device like a thumb drive but it is downright wrong for a hard drive. Especially if that hard drive contains your windows you will ruin your windows install.
The second reason this warning is such a problem is that it is filled with anti-windows rhetoric, and bad grammar. Fix it write an impartial statement that ntfs is a proprietary file system and there is a possibility of data loss. In lines with the opinionated discourse against windows is a faux disclaimer that says eLive is not the problem. This is not how you write a disclaimer, there are many such examples available about writing a disclaimer or creating an end user agreement.
Maybe they just haven't gotten around to fixing the disclaimer, but I wonder if it means that the project will be hindered by personal bias.
My bottom line, this is a good operating system that needs work and it would be worth it to contribute money to the continued development. On the otherhand it is not worth it to "buy" this operating system. Support might be limitted to the forums and email which could be slow. I want to make this distinction between contribute and buy. Buying it would assume that the money spent is a good value, but I don't find this distribution offers anything special. It would be easy enough to install ubuntu, add the enlightenment repository which would leave you with a similar operating system.
Still, I want to make it clear the intallation was completely painless. I tried to install debian on this system previously and I had quite a bit of difficulty so I eventually switched to Anti-X. I like that eLive is built on lenny so if I update the packages it is a resonable update, after a week the only package I had to upgrade was chrome. I think this could lead to some good work for older computers.
The live cd sucks and is barely useable compared to running this os from the hard drive.
Comments